Maya is not a separate entity. Absence of light is called darkness, so also absence of Knowledge, Illumination etc., is called ignorance, illusion or Maya.
Once Narada Muni who is very intimate devotee of the Lord Krishna, through devotion and austerities he had reached a great Spiritual station, so Lord Krishna went to visit him, and as his reward offered to grant him a desire.
"My dear Krishna, can you please show me power of your Maya, your illusory energy? Please explain to me the secret of this magic called Maya and how she act?"
Sri Krishna hesitated to do it. So Krishna asked his dear devotee:
My dear Narada are you sure you want to see power of my maya!?
Narada was very determined so he said: Yes, Krishna i am sure. I want to see power of your Maya!
Lord Krishna replied : Ok Narada I will show you, but lets walk for a while. After they walked some minutes he said to Narada: "Let's lie down here in the shade and I shall tell you everything. But first, Narada, it's terribly hot; would you get me a cool glass of water?"
"Right away," Narada promised happy to do some service to his beloved Lord krishna. He set out across the fields. The sun beat down and though he was a good walker, the little line of thatched cottages on the horizon that marked the nearest village seemed no closer as he strode along. The heat grew unbearable. Narada's throat became parched too; he began to think that he would ask for two glasses of water, and drink the second himself.
Finally he reached the village and ran to the nearest house. The door opened – and there stood the most beautiful girl he had ever seen. She smiled up at Narada through long, dark lashes and something happened to him that had never happened before. All he could do was to look at her beautiful face.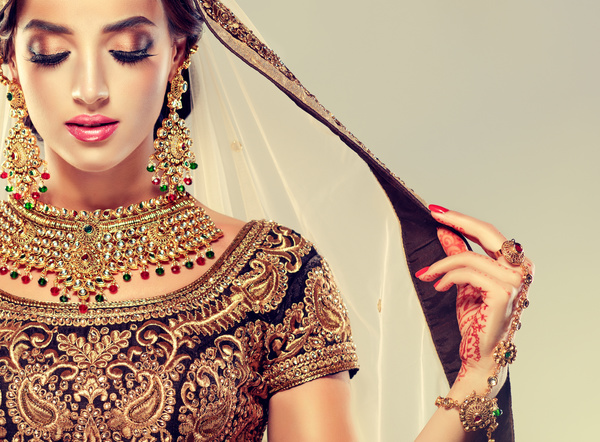 Finally he spoke out, and try to ask her for water, but in the traditional way the girl went and fetch her father who before anything wanted to treat the guest to the generosity of the host, every time he wanted to ask for the water, he was distracted by their attentions, and the beauty of the girl, who looked at him The girl shyly, but with some coquetry, of her big, and beautiful black eyes, intrigued by the handsome looks of the stranger felt attracted like the bee to the flower, and every time her father would order to fetch something to honor the guest, Narada would look at her, as at the most precious jewel.
The day went by and he forgot totally about His Lord Krishna, days went by, and he started to work for the father, the father admiring his good work, he thought he will be a good husband for his girl, and finally, after a couple of years Narada's wish become a reality, and he was married to the beautiful girl.
The couple settled down to a life of family bliss. After a while, children began to arrive. Narada's home became a very animated household.
Somebody was always being bathed or dressed; there were meals to get and people to be provided for. And all these things were filling up their lives. Narada and his wife became engrossed in their private little world, quietly building their dreams. he worked tirelessly, and good fortune favored him.
  Years passed. The children grew up, went to school, got married; in time, grandchildren arrived. Narada became the patriarch of a great family, respected by the whole village; his lands stretched to the horizon. He and his wife would look at each other fondly and say, "Don't you think being grandparents is the greatest thing on earth?"
Then after so many years, of working and farming, one day the sky darkened ominously, and   a persisting rain for days come, it rained days, and nights for days, then a torrential   flood came. First The village fields became a raging river, then his servants told him the cattle was gone.

The water start reaching his house, so he took his treasures, and his numerous family to the top floor of his house, but the water keep reaching higher and higher, finally he climbed to the roof with his children and family, until the water reached up to him, graving his wife and his favorite little grandchild, he was swept by the current, in the struggle he lost both, he almost drowned, and lost consciousness, when he woke up on top of a high rock,  before Narada's helpless eyes, everything that he loved and lived for – his lands, his cattle, his house, but especially his beloved wife and all their children and grandchildren – were swept away. Of all the village, only he remained.
He was trying to save them from all these calamities but was not successful.
Unable to watch the destruction, Narada fell to his knees hurt to the core of his being, and cried for help from the very depths of his heart.
"Krishna! Krishna!"
As he cried in utter despair, suddenly the heat of the sun was unbearable, at once, the raging floods disappeared and there was Sri Krishna, standing casually on the fields where they had walked what seemed to be so many years before.
"Narada," the Lord asked gently, "You have been gone for some minutes, where is my cup of water?"